Tip 1: Auto-filed news articles means you won't be starting from scratch
Before the new year, Prepd received a major update. Notably, we launched a new feature — the News Feed — that automatically captures articles from 50 different news sources. Thanks to Prepd's auto-filer, new teams enjoy immediate access to tens of thousands of articles from quality sources — without having to manually compile any of them. You can literally join Prepd the morning of a tournament and rely on the News Feed for your evidence base (simply run searches through the News Feed and it will sort out the most relevant articles according to your search parameters).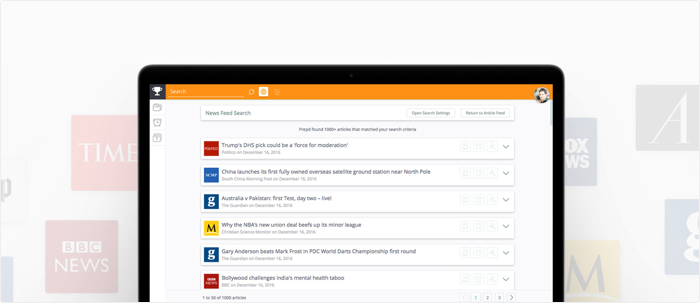 That said, the News Feed isn't intended to replace manual filing. We still encourage students to actively file because it helps them expand their knowledge base and prepare for tournaments (Prepd is for prepared debate teams, after all). Moreover, unless an article from the News Feed is manually saved into a Prepd app, the article will be removed from the News Feed two months after it was initially published. But as a backup evidence base for teams that have not yet built up their own collection of files, the News Feed is great.
Learn the ins and outs of the News Feed by reading this blog post.
Tip 2: Don't immediately abandon your old filing software
It's not uncommon or unreasonable to feel tied down to Dropbox, Evernote, or Drive — especially if your team has built a large collection of files and has developed a categorization system that is understood.
The good news here is that no one is forcing you to immediately abandon your old filing tools. In fact, we encourage debaters to hold onto their previous program and dive into it whenever they need to access old files. But for new files, store them in Prepd. We've learned from teams that have tried this approach that their collection of Prepd files grew so fast that within a few weeks, they no longer relied on the files in their old system.
A small caveat here: Most competitive extempers have a handful of "go to" articles that are highly impactful and reusable. You should probably spend a few minutes saving your favorite files into Prepd. Don't feel pressure to move 10,000 PDFs from Dropbox (really, don't do that, leave them in Dropbox), but do hold onto the few special articles that tend to resurface in your speeches.
Tip 3: Treat the transition as an opportunity to reorganize your folders
Experienced extempers can all empathize with this situation: At the start of the school year, you outline a comprehensive and perfectly logical folder categorization system and then, a few months later, your filing system no longer seems so comprehensive and logical (e.g., the 2016 election is in the past and Donald Trump's presidency is in the future, have you updated your folders accordingly?). At some point during the year, teams look at their folder system and determine it needs a serious rework. Some teams embrace the challenge and invest the time into restructuring their folders. Many other teams, on the other hand, let their folders slip away. They find themselves relying less on their folder system and more on Prepd's search and filter tools, which is okay too!
Either way, you can view a software transition as an opportunity, not a burden. Forget the folder system that worked for you in 2016. Rethink your files for 2017 and build an evidence base for the future.
Tip 4: Take advantage of Prepd's team management tools
Finally, keep in mind that Prepd offers a range of team management features that are very useful during a software transition. The analytical tools in Prepd's Classroom hold teams accountable; you can download activity reports and view filing activity for both your team as a whole and individual contributors. Moreover, every Monday morning, Prepd automatically emails a weekly activity report to the entire team. When coaches and team leaders can easily track participation, engaging the entire team and encouraging filing becomes easy.
So, how do I get started?
Creating a team account only takes a couple of minutes! If you are a coach, follow these steps to create a Premium Team:
Using Chrome, visit signup.prepd.in
Complete the fields to create a Free One (individual user) account
Check your email and follow the link in Prepd's verification email
You'll be redirected to the Classroom.
Follow the steps in the "Create a Team" pop-up to set up your account. For payment methods, you can pay immediately with a credit card, or you can pay with a check (Prepd offers a 30 day payment window if paying with a check).
Check your email once you've set up your Premium Team account for additional information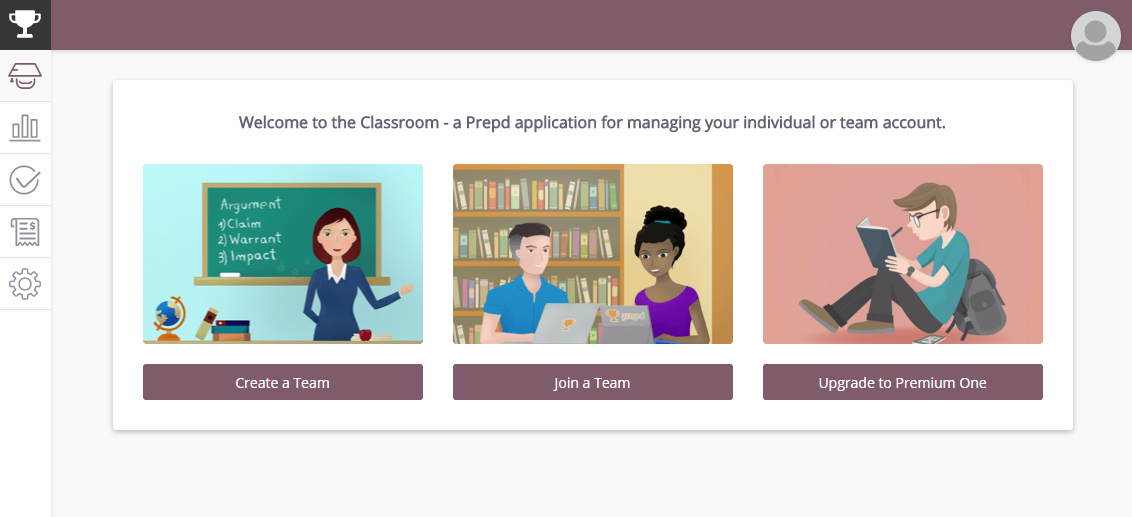 Is there an easy way to migrate files from another filing system into Prepd?
Unfortunately, the answer is no. The evidence management and consumption experiences in Prepd are truly unique. As a result, our file system isn't compatible others. But again, why do you need to transfer all of your files? You can hold on to your previous system to access old files. And once you embrace Prepd's feature set, you'll learn how easy it is to quickly build a new and improved evidence base.
Anything else?
Prepd's support material is especially useful when your team is getting started:
The user guides are also a good resource, or find out some reasons why you should choose Prepd.
Visit the Help Center if you or your students ever have any issues.
And of course, the Prepd Team is always available to help. Contact us if you ever have any questions or issues.