If you have opted for a membership with only one active application (Extemp or Congress), the other one will remain under the limits of the free membership you previously had (eg. 50 articles and one docket for Free One, and 100 articles and one docket for Free Team).
To upgrade the remaining application to Premium (and have access to more dockets and articles) please follow these steps:
Log into your account on the Classroom application
Select the billing icon (fourth) from the left side bar (this option is available only for the team coaches)
From the Billing page, select "Upgrade Membership" at the bottom of the page
Follow the steps in the pop-up window to activate the second application.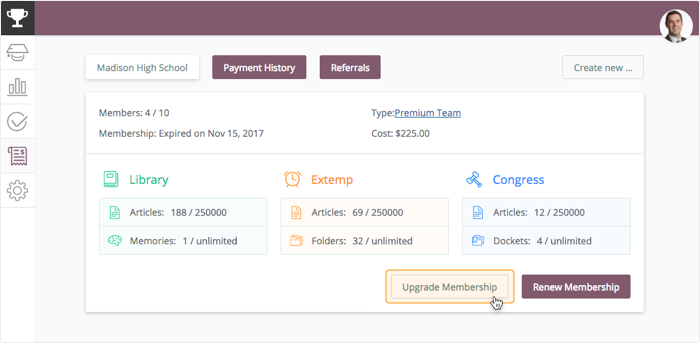 For upgrading your membership, the only available payment method is card. If you would want to upgrade but can only pay by check, please contact us or do an early renew (the cost will be pro-rated accordingly and the expiration date will change to one year from when you renew).