Extemp Practice Questions is Prepd's answer to making topic questions available to students and coaches. We have partnered with Logan Scisco — founder of ExtempCentral.com and the coach of Danville High School's extemp program in Kentucky — to provide an innovative practice question experience.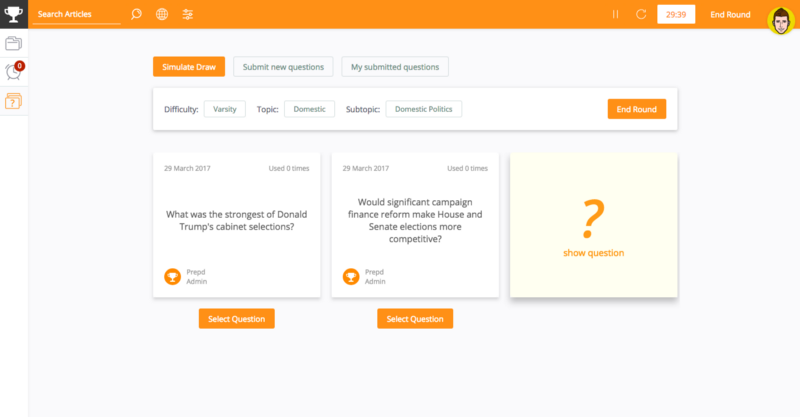 To access the Practice Questions page, click on the third tab, from the left-side navigation bar, in Extemp. From there on, it's simple to Simulate a Draw:
select a difficulty level (novice or varsity), a topic area (foreign or domestic), and a sub-topic area
click on the "Draw" button
three random questions will appear as cards
flip each card to see the question
click "

Select Question

" and your Extemp Round will begin
If you want to contribute to the Practice Questions experience on Prepd, you can use the "Submit new questions" page to suggest your own. All submitted questions will go in a queue, managed by Logan, and, if approved, your question will appear to all the Prepd users. You can see your submitted questions, and their status (and rejection reason) in the "My submitted questions" page.